Bluecube is the market leader in public sector seating which will put design first to ensure that every venue, no matter how small or large is fitted out with the best possible seating solution.
INDOOR / OUTDOOR STADIUM SEATING
100% recyclable polymer
Indoor & Outdoor
Padded seat & back in vinyl/ fabric finishing(Optional)
Strength & stability: BS EN12727 2000 test level 4
Fire resistance: BS EN5852 Crib 5, BE EN-1021-2:1994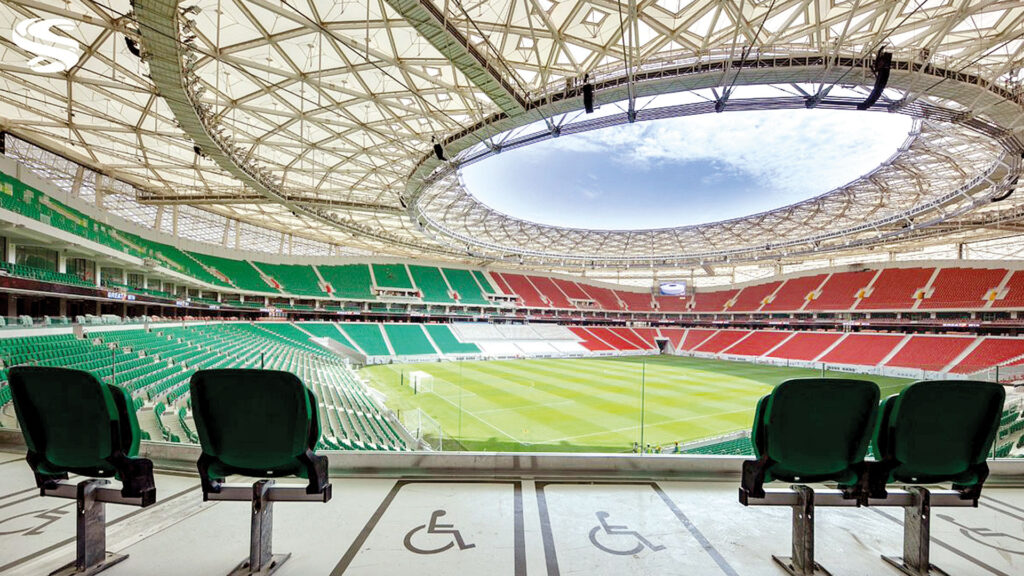 PRODUCTS CHARACTERISTICS
»   Flexible extruded aluminum rail mount system allows for- Quick installation
– Variable, site specific chair spacing- Reconfigure the seating to increase capacity for a big event or game
»   Durable construction and tight envelope make a perfect solution for arena
»   Aluminium rail sections are installed continuously throughout the facility that can be outfitted with all the accessories, such as armrest, cupholder or writing tablet
»   The flexible installation process creates space for each individual
»   Return mechanisms are made from glass-filled polyamide to withstand the rigors of high use facilities
»   The corrosion resistant polymer and aluminum components make an excellent performance for harsh  environments
Multi-purpose/ Lecture seating system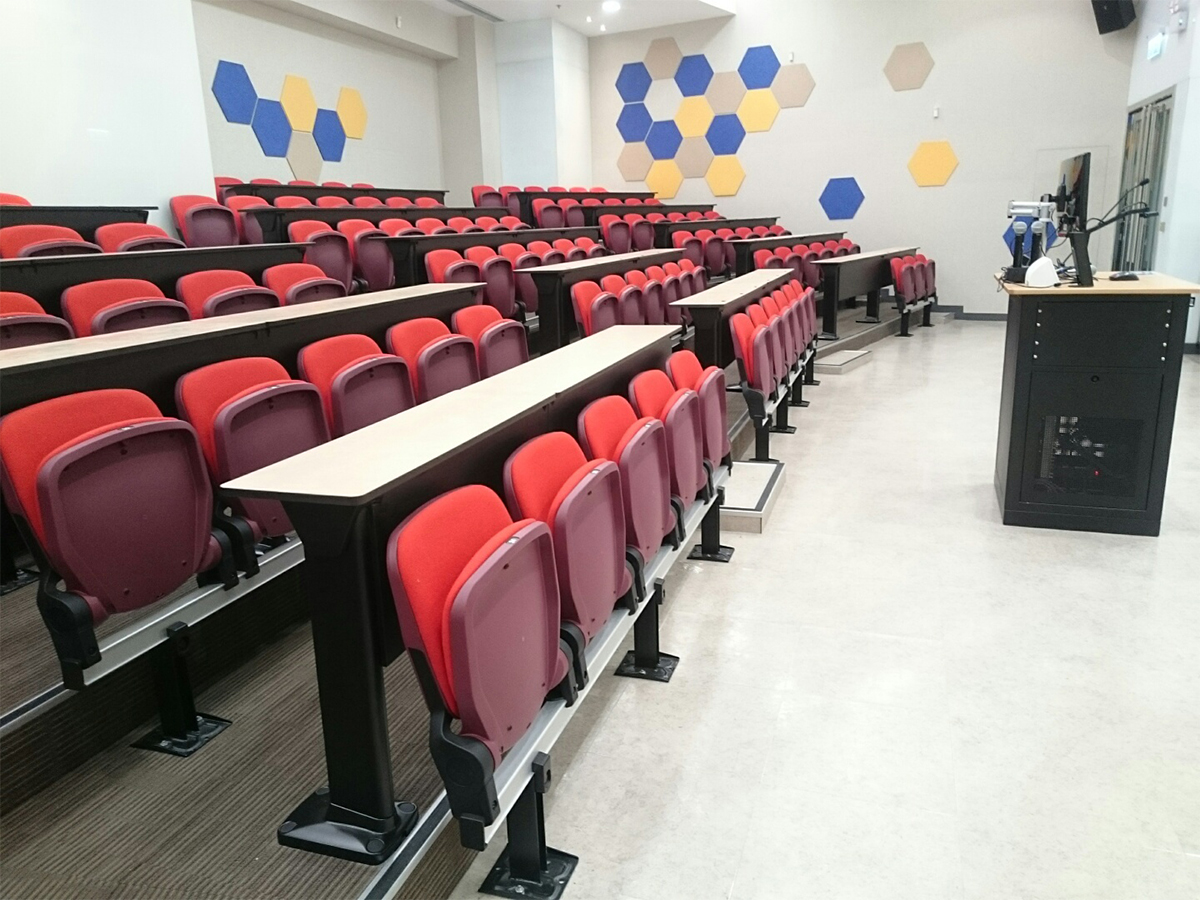 Fixed Table & Seats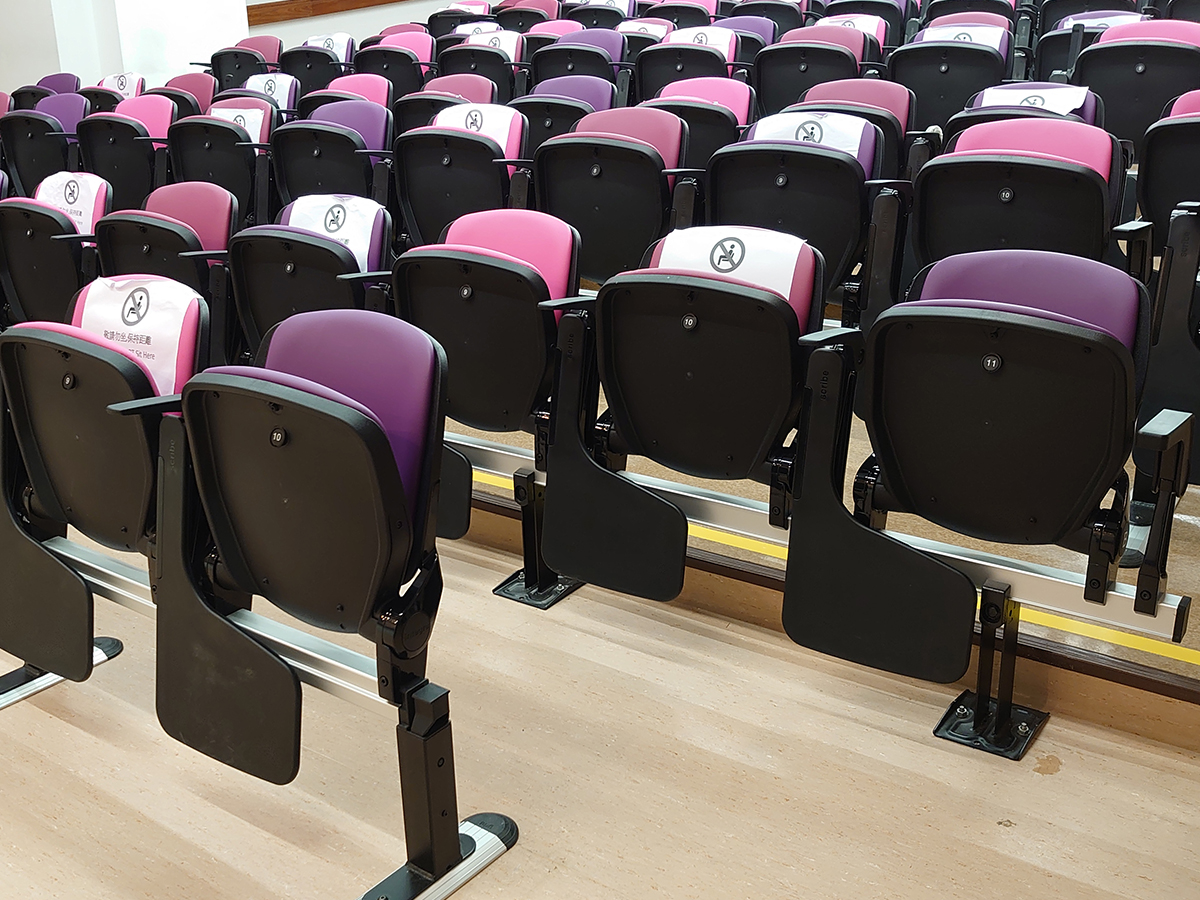 Fixed/ movable seats with tablet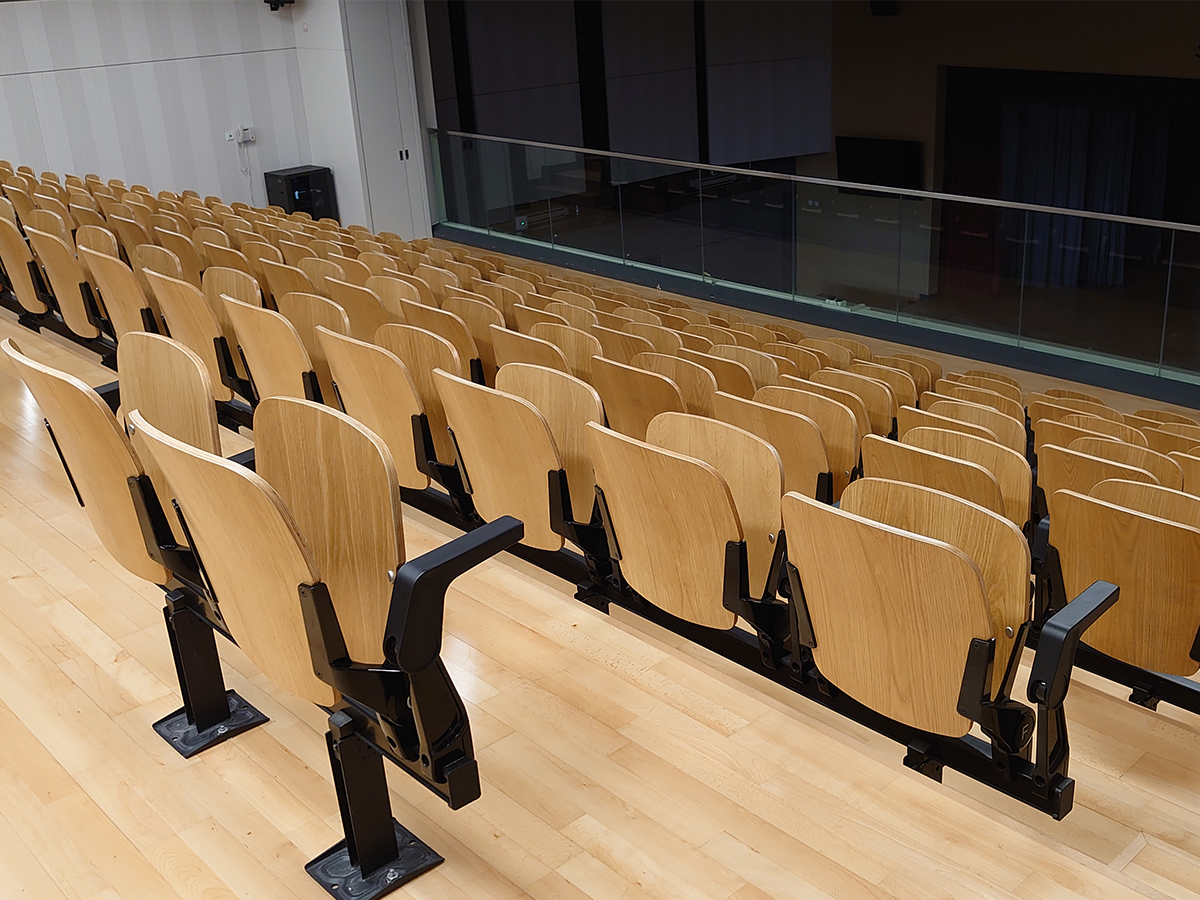 Fixed seats with armrest
Centura is one of the most compact models on the market ensuring the maximum egress space between rows of seats.
The seat modules are attached to the extruded aluminum rail profile using clamp system, meaning seats can be spaced out evenly during installation.
Centura seat modules are available in minimum 460mm and  can be supplied on telescopic or into fixed applications, and is available with the full range of armrests and accessories.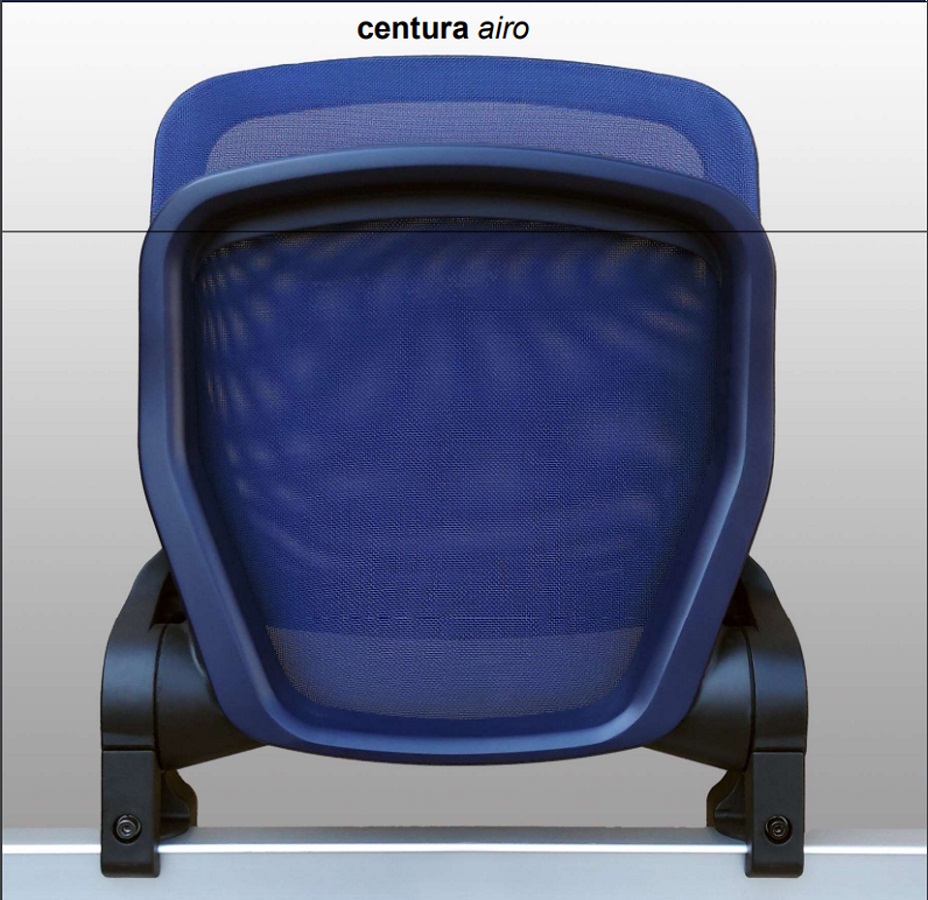 Centura airo uses an extremely durable high tech polymer "mesh" that allows air to pass freely through. Keeping your patrons sweat free and leaving with a positive experience of the venue.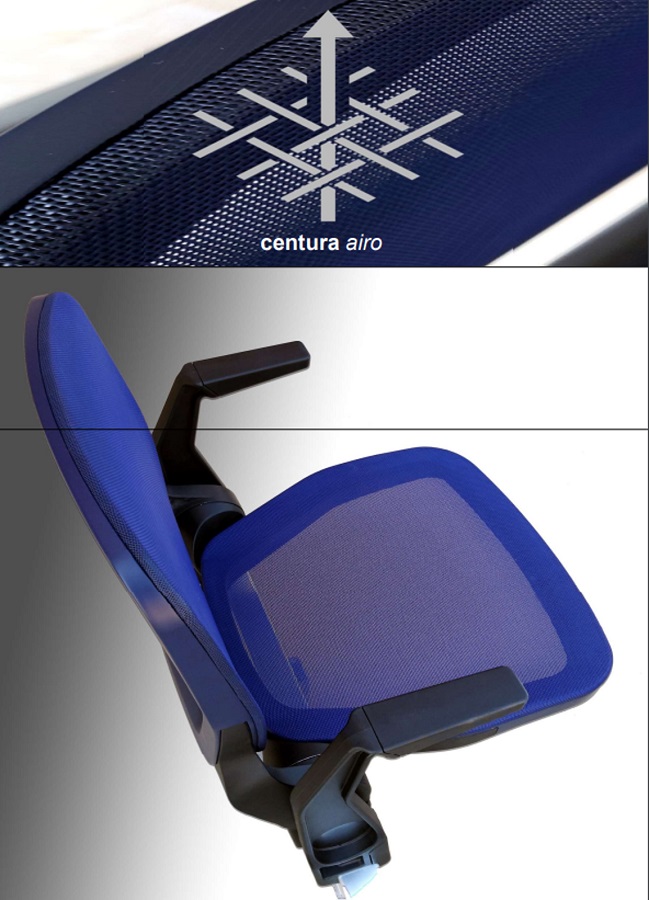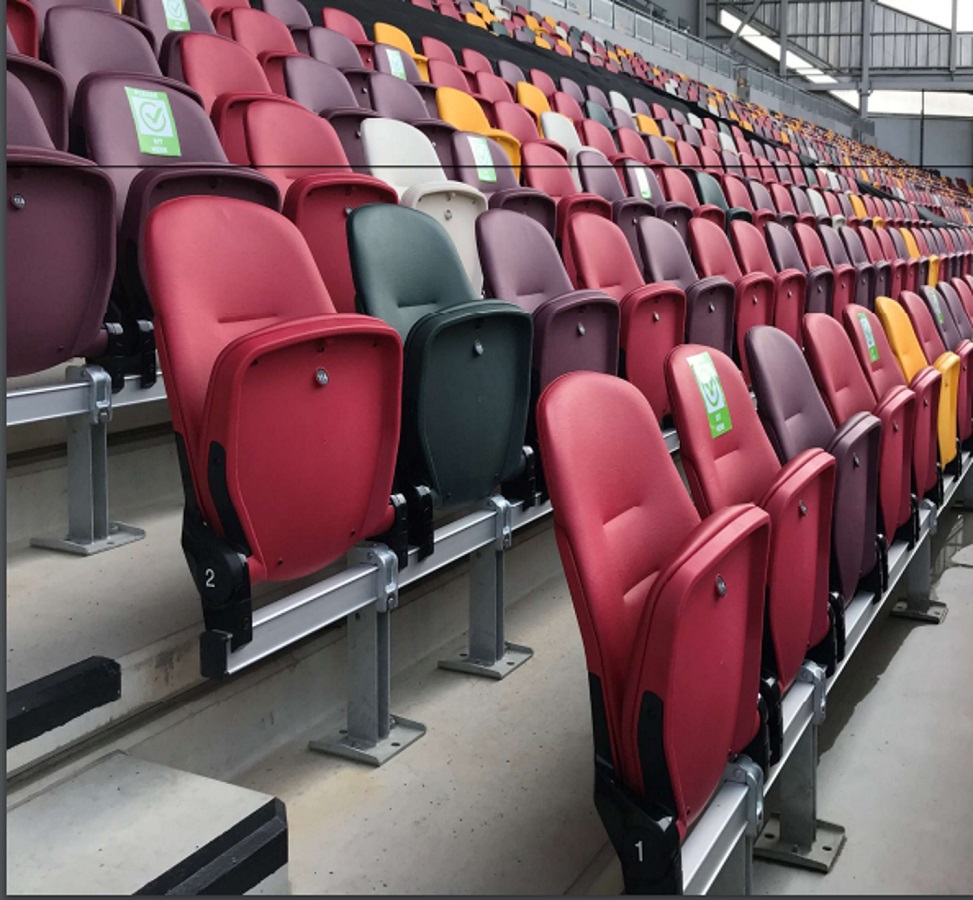 Decra can be supplied on telescopic or into fixed applications, and is available with the full range of integra armrests and accessories. decra can be specified in a range of real wood veneers or upholstered in a range of interior fabrics.
Decra seat modules are available in 460 mm as standard. Seat and backrest components are available in non standard heights and widths.
The seat modules are attached to the extruded aluminium rail profile using clamp system, meaning seats ca be spaced out evenly during installation.
Luxx is a comprehensive range of upholstered tipping seats for arena fixed and telescopic applications, performing arts venues, and outdoor stadium suites.
Luxx upholstery comes with a choice of plastic panels to the underside of seat and back of backrest, making it suitable for arena environments, or alternatively full fabric or show wood panels for performing arts and black box.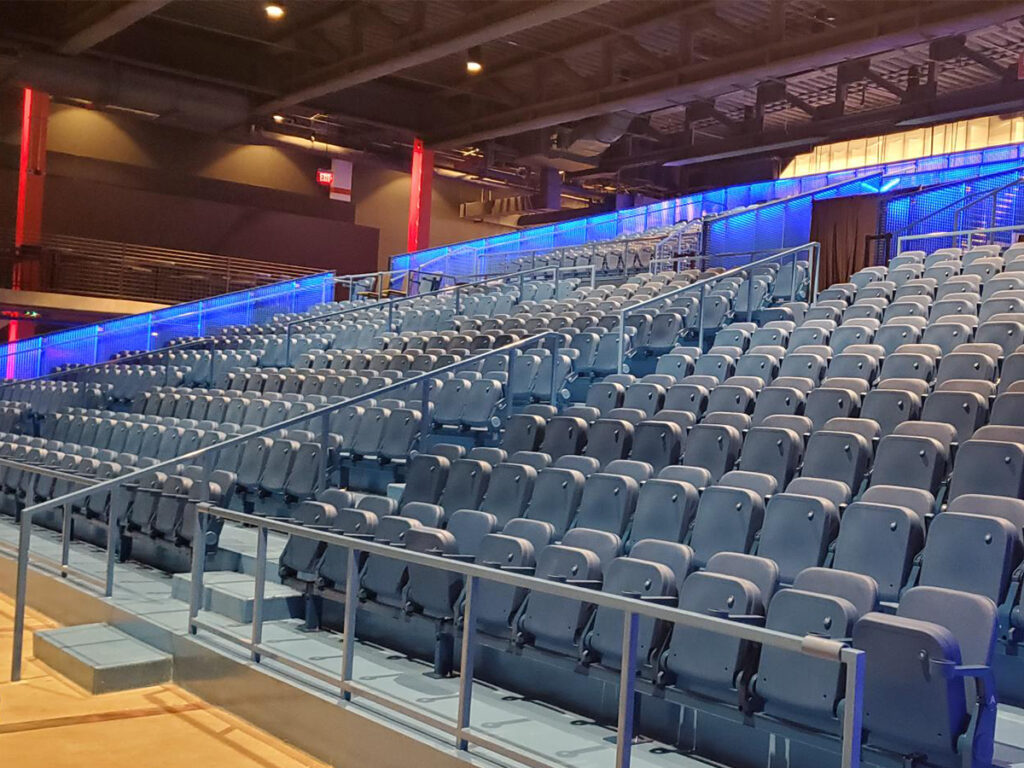 Luxura is a high end seat for VVIP and Sky boxes. The seat comes either pedestal mounted for an individual feel ‐ or railmounted – working with our standard support structure  and has a complete range of accessory items including the scribe tablet arm.
Luxura comes in a range of fabrics and vinyls to suit any venue.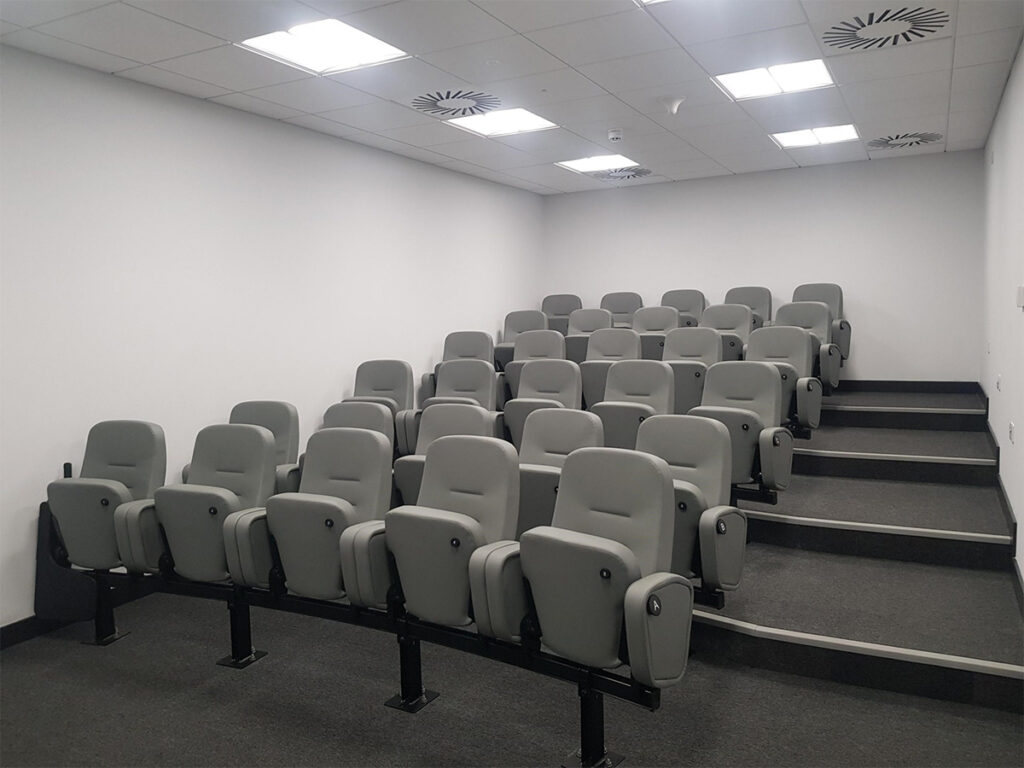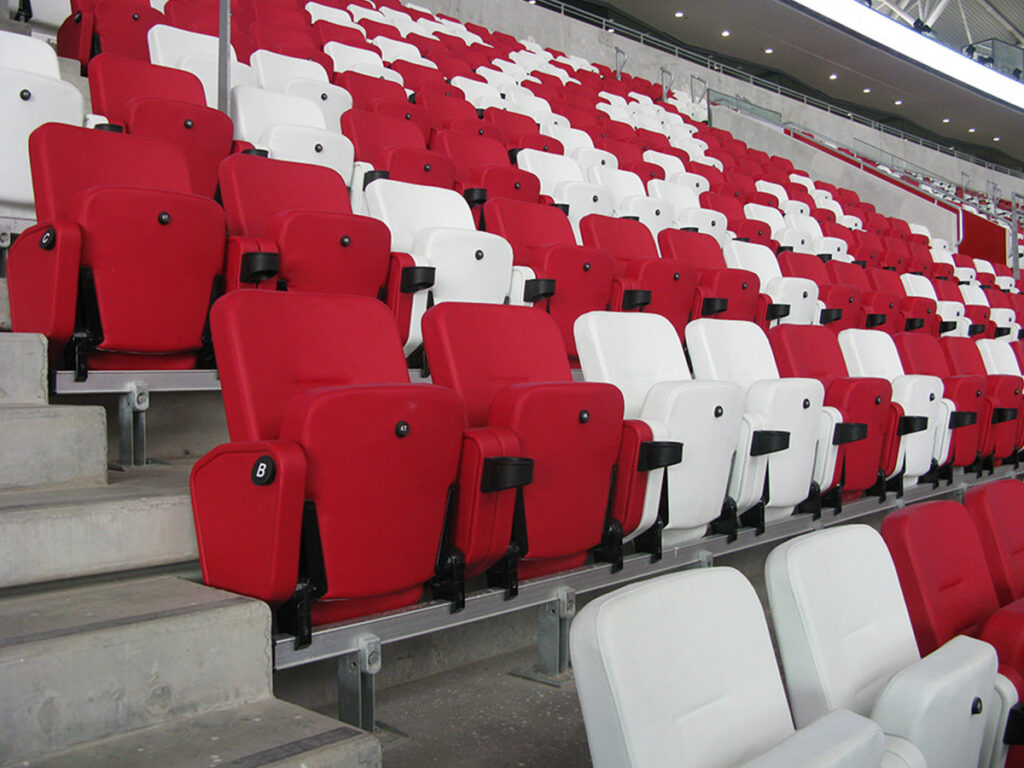 Indoor/ Outdoor Solo Media desk with swing seating system
Bluecube produces a range of media solutions that are designed to meet the outdoor and indoor venue requirements
Permanent media areas – installed with fixed desks that accommodate a set number of seat positions.
Temporary media areas ‐ which can be quickly and easily 'changed out' to accommodate desks.
Flexible media areas ‐ installed with a set number of seats and writing tablet arms which can be used as either general admission seating or as media positions.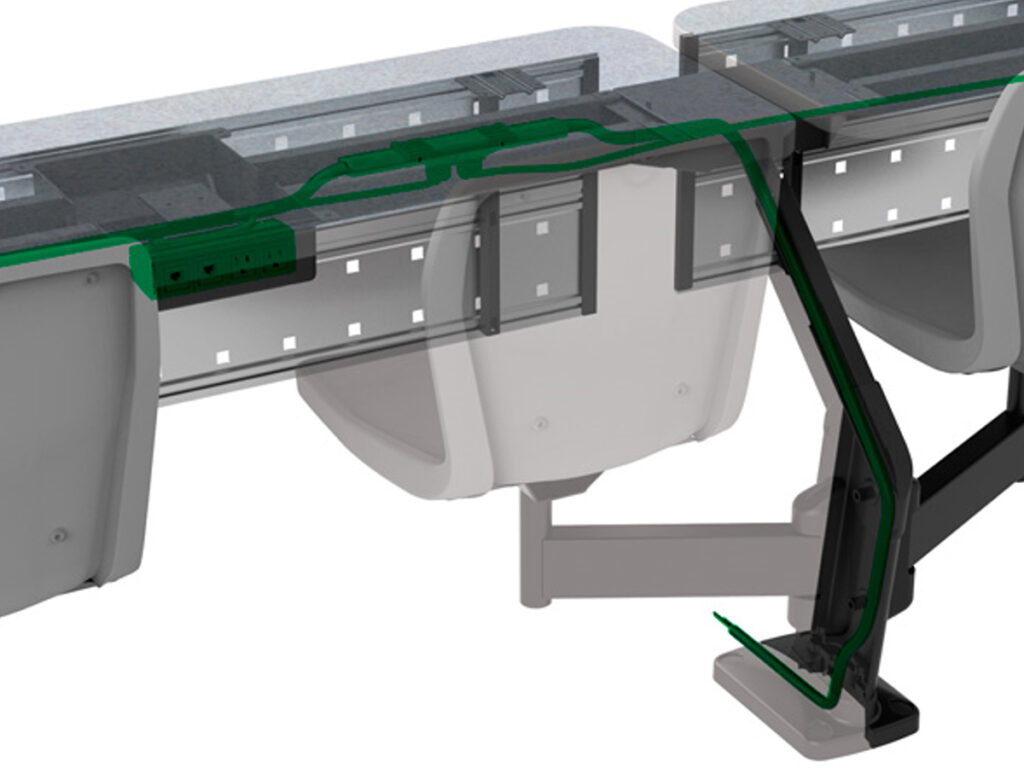 Seat can rotate 360 degrees when properly configured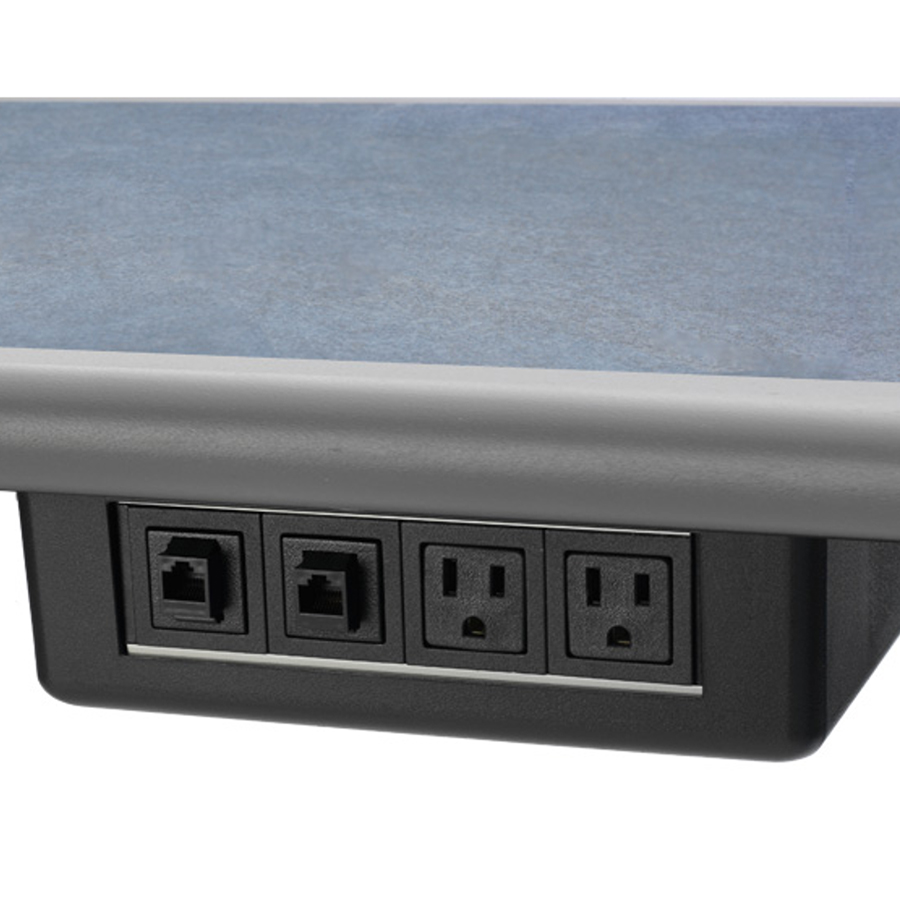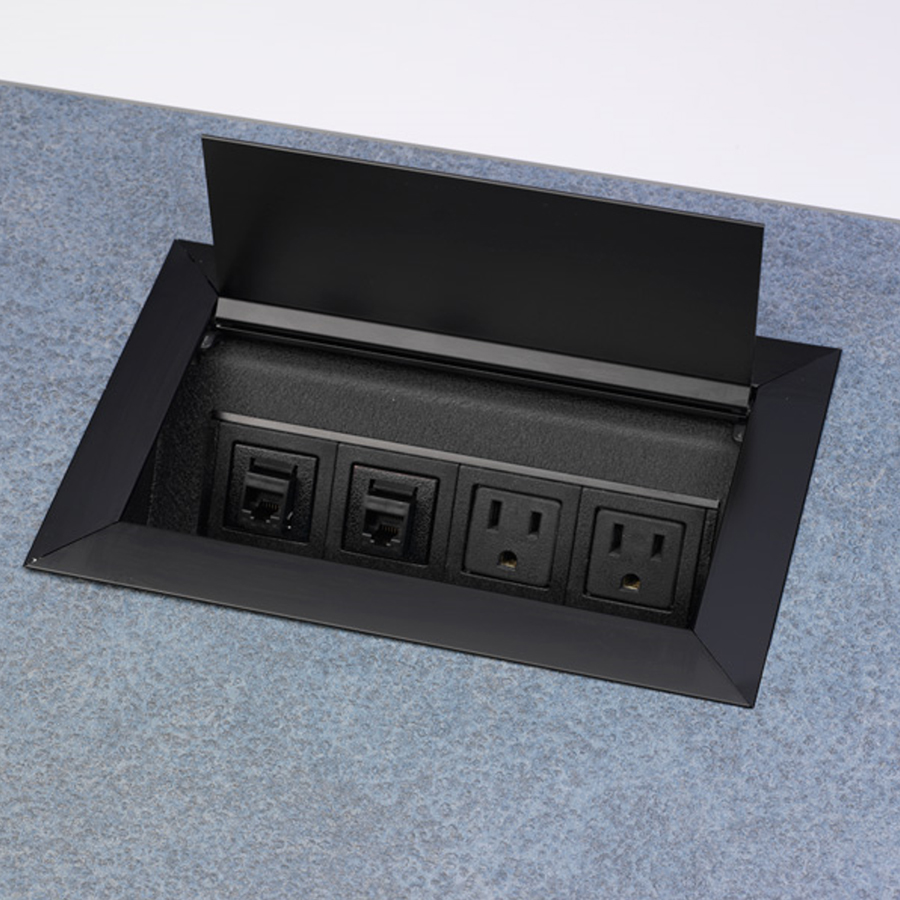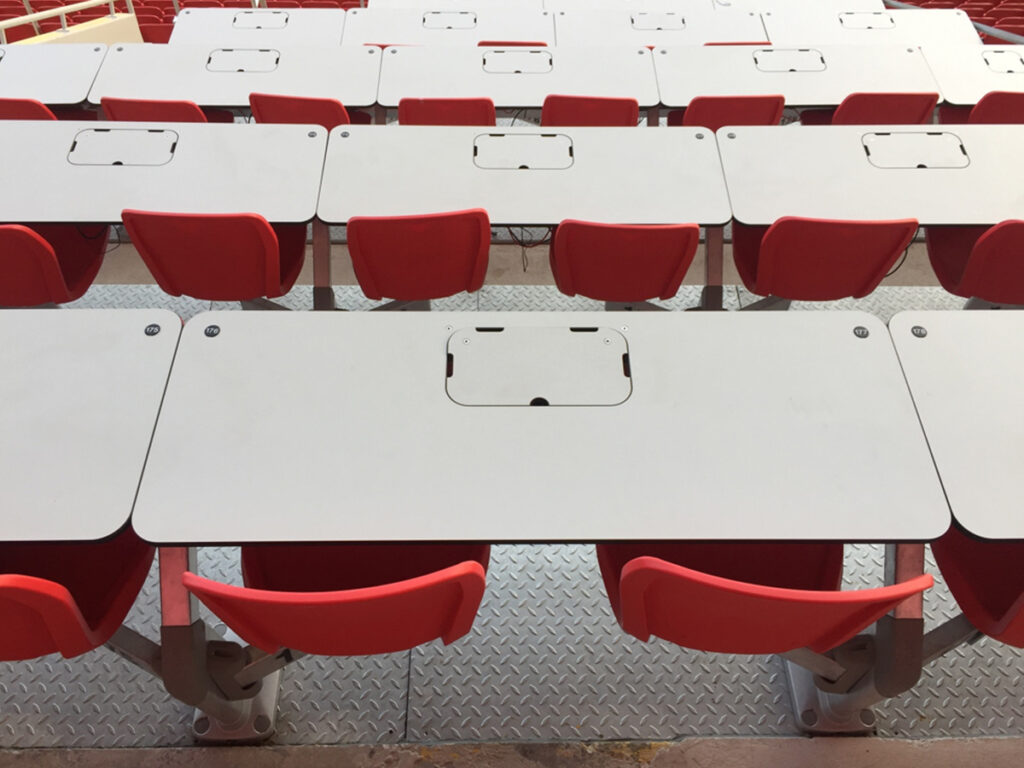 Cables are routed through legs and raceways underneath work surfaces
Grid flat‐floor seating system allows any choice of seat tipping model to be arranged in row formation.
Increased seating capacity – an automatic 'tipping' seat has a narrower envelope giving the option of either increased seating density or wider clearways.
Increased set up speed ‐ the system can be assembled by one man faster than conventional folding or stacking chairs.
Safety ‐ once in place, grid is almost impossible to move so chair row 'snaking' is eliminated.
Cleaning – less legs means its easy to clean between events.
Fast-latch is a system which is permanently affixed to the terrace.
Easy and fast removal of seats allows for wider access aisles when in event mode.
Changeover of seats for temporary press desks and back to seats.
Changeover of seats for crush rails to create standing areas and back to seats.
tech deck is a versatile demountable modular decking system which can be configured to build flat or multi-level platforms. Typical applications include;
Stages
Audience tiering
DDA platforms
Access platforms
tech deck can be specified for use in indoor or outdoor environments. A full range of accessory items are available including guardrails, steps and drapes. Modules can be supplied in either plywood with phenolic anti-slip finish to the topside or alternatively lightweight aluminium composite core boards with checker plate finish to meet class 0 fire code.